PRODUCT LIST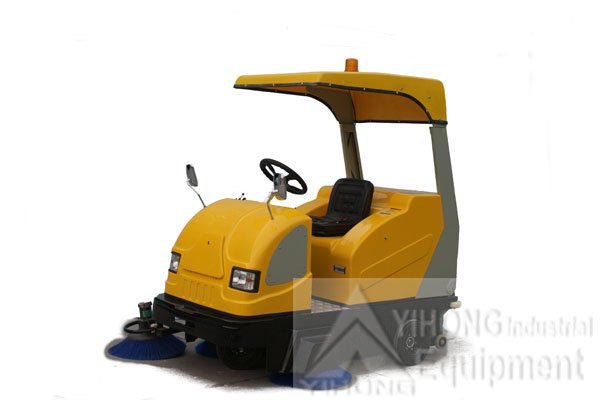 Battery Sweeper YH-B1750
Applications :
Equipped with a roller-shape filter with large filtering area. It's ideal for outdoor and indoor sweeping applications, such as parking lot, pathways, railway stations, loading bays, warehouses and schools.





Battery Sweeper YH-B1750
The battery sweeper YH-B1750 is a kind of electric ride on sweepers. This machine has an automatic cleaning system with the functions of dust absorption, ground sweeping and water spray. It is driven by battery power, no exhaust, no emission, no big noise and no secondary dust. The perfect appearance and outstanding cleaning efficiency make it become the best choice for most people in cleaning work.










Battery Sweeper YH-B1750 Features:
1. Using battery as driving power, no big noise and no secondary dust. It is an environmental product.
2. With intelligence operation system, simple, flexible, convenient. The small turning radius enables it to sweep narrow place easily.
3. Thanks to the high capacity battery, this machine can work for 6-8 hours.
4. Mechanized operations, enhance the corporate image.
5. Combined with powerful cleaning system, sweeping and suction in one step, fully cleaned up all the rubbish.
6. Large dust filter which can clean up the dust completely by the electric shock filter devices.
7. Lighting for night operation.
8. It saves labor and employment, providing work efficiency, easy maintenance.
9. Solid tire, airport-specific, strong and durable.
Battery Sweeper YH-B1750

| Item Name | YH-B1750 |
| --- | --- |
| Sweeping paths | 1750 mm |
| Productivity | 10000m2/h |
| Max Climbing Capacity | 20% |
| Length of Main Brush | 700mm |
| Power Supply | 36v |
| Continuous Working Hours | 6-8h |
| Dustbin Capacity | 150L |
| Cubage of Water Tank | 30L |
| Side Brush Diameter | 500mm |
| Driving Power(Motor) | 1500 w |
| Working Power(Motor) | 600+500+80x4+50w |
| Turning Radius | 1200(spot turn)mm |
| Dimension (L*W*H) | 2150x1750x2020mm |
| Max Working Speed | 7km/h |
| Max Running Speed | 8km/h |
| Filtering Area | 5m2 |
| N.W. | 690kg |
CASE

RELATED PRODUCTION