PRODUCT LIST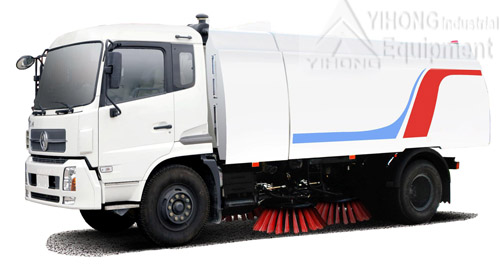 Road Sweeper YH5160
Applications :
The sweeper is suitable for road cleaning of urban streets, squares, airports, wharfs, etc. It works by picking up gravel, rind, scrap of paper, cigarette end, kernel, plastic bag, stone, brick, grains of sand, dust, and etc.







(i)Sweeping Equipment
1. Four Sweepers in the middle and Rear Suction Nozzle. Sweeping plates have three forms of operations: Full Sweeping, Front-Left or Front-Right Sweeping. It is also able to avoid obstacle automatically.
2. Suction Nozzle: It is a roll-sweeping nozzle which can avoid garbage remaining. The roller has 3 floatable supporters in order to adapt to different road environment, which is the first advanced innovation in Mainland. It is able to install the new leaves sweeping nozzle, which its patent of technology is protected by nation.
3. Auxiliary suction device is optional, it's convenient to clean the corner and region that can't clean






(ii)Technique of the Vehicle

1. Dustbin is made by SUS304 single layer stainless steel with high structural strength.
2. The outline of Dustbin is designed with curve to let it be more artistic.
3. Some structures like sweeping plate and suction nozzle adopt the process of pickling, phosphating and electrostatic spray paint.

(iii)Safety Device &Controlling System
1. It has several warning system, including low water position for water box, vehicle working and reversing, auxiliary engine water temperature, engine oil pressure, hydraulic oil leakage, dustbin tipping and return position, rear door opening and closing, etc.
2. For emergency status, the operations of dustbin, suction nozzle and sweeping plate can be controlled by manual pump. Workers are also able to go inside the auxiliary engine cab for inspection and repairing in special condition.
3. It is operated by intelligent control system. All electrical and hydraulic equipment controlling are all-in-one, in order to simplify drivers'operation.



(iv)Product Drawings



Advanced Techniques



(i)Dustbin Material : SUS304




SUS304 is the 304 stainless steel, which SUS and 304 are Japanese and American ASTM standard respectively. 304 is also similar with 0Cr19Ni9 (0Cr18Ni9) stainless steel in Mainland China, when Japan is now call it as SUS304. It has a higher anti-corrosion ability comparing with Cr13 as having higher degree of Nickel and will be at Single-Phase Austenite Form in room temperature. It also has better toughness in any temperature, and also cold-forming and welding ability. But it has worse strength in room temperature due to greater crystal-and-crystal and stress corrosions. So it has a worse finishing by cutting. It also can't be strengthen by heat treatment as Austenite will not change form when heating. The heat treatment can only be completed by raising the anti-corrosion of steel. SUS304 Canonical Heat Treatment:Solid Melting 1010~1150℃ Quick Cooling。Metal Phase: Austenite.





(ii)Welding Form, Related Equipments and Welding Stick Material




It applies a mixed gas(85%Ar+15%CO2)for protective welding with gas protective welding machine and ER50-6/Φ1.0 stainless steel welding stick.





(iii)Anti-Corrosion Craft


1. All parts should be dry and corrosion free before welding.
2. All strengthen bars'internal parts and welding positions with mother-materials should be painted
3. With anti-corrosion material(grass green oxidized paint);
4. All strengthen bars must be fully welded by sealed board.
5. Use Normal Welding Stick for Welding.
6. Area within 20mm from the welding position must be cleared before welding.
7. Welding mess should be cleared after welding.
8. Paint the whole vehicle when welding completed.

(iv)Painting Procedure
Checking→Clearing→Roughing→Medical Wiping→Medical Drifting→Drying→Base Painting→Paint Drying→Plastic Spurting→Rough Ash Scraping→Rough Polishing→Blowing Clean→Smooth Ash Scraping→Small Polishing→Blowing Clean→Medium Painting→Drying→Supplement→Polishing→Blowing Clean→Black Painting for the Base Part→Cover Painting→Cover Paint Drying→Logo Painting→Drying→Inspection.


Road Sweeper YH5160

| | | | |
| --- | --- | --- | --- |
| ITEMS | YH5163D4 | YH5163D5 | YH5160 |
| Chassis Model | DONGFENG DFL1160BX4 | DONGFENG DFL1160BX1V | ISUZU QL11609MFRY |
| Chassis Engine Model | ISDE210 40 | ISDE210 50 | 4HK1-TCG40 |
| Chassis Engine Power (kw) | 155 | 155 | 139 |
| Auxiliary Engine Model | Cummins 4BT3.9 | Cummins 4BT3.9 | Cummins 4BT3.9 |
| Auxiliary Engine Power (kw) | 77 | 77 | 77 |
| External Size(L × W × H) (mm) | 7800x2500x3060 | 7800x2500x3060 | 8205x2500x3060 |
| Gross Vehicle Weight (kg) | 16000 | 15800 | 16000 |
| Unladen Weight (kg) | 10000 | 10000 | 9350 |
| Payload Weight (kg) | 5805 | 5605 | 6520 |
| Maximum Speed (km/h) | 90 | 98 | 95 |
| Wheel Base(mm) | 4500 | 4500 | 4500 |
| Cab Seating Capacity (persons) | 3 | 3 | 2 |
| Front/Rear Overhang(mm) | 1430/1870 | 1430/1870 | 1335/1870 |
| Approach/Departure Angle (°) | 20/11 | 20/11 | 26/12 |
| Sweeping Width(m) | 3.5 | 3.5 | 3.5 |
| Maximum Sweeping Ability (m2/h) | 105000 | 105000 | 105000 |
| Sweeping Speed (km/h) | 5~30 | 5~30 | 5~30 |
| Sweeping Efficiency (%) | ≥96 | ≥96 | ≥96 |
| The size of the Largest Inhaled Garbage(mm) | 120 | 120 | 120 |
| Stainless Steel Dustbin Volume (m3) | ≥8.5 | ≥8.5 | ≥8.5 |
| Stainless Steel Water Box Volume (L) | 3200 | 3200 | 4000 |
| Dustbin Maximum Tipping Angle (°) | ≥45 | ≥45 | ≥45 |
CASE

RELATED PRODUCTION