PRODUCT LIST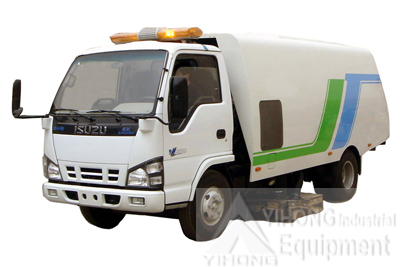 Road Sweeper YHQS-5063
Applications :
City road cleaning,Highway Cleaning, Factory daily cleaning, Parking lots cleaning, College, school cleaning, etc





This Road Vacuum Sweeper is an environment-friendly special purpose sweeper, with the combination of blowing and suction.
1.Entire Dry Suction. An operation uses air for completion, with the combination of blowing and suction but without secondary dust emission.
2.With the dry suction type. As soon as it passes ,the ground will be very clean.
3.Good dust suction effect.It can efftectively clear away waste matter ranging from dust of tens of microns to general small stones, trees leaves, etc, with a dedusting rate of more than 98%.
4.Water suction function. It can be operated in a rainy day .Equip the side brush to help sweep the wet and sticky rubbish on the ground.
5.Its structure is simple, worn parts are few , use and maintenance are convenient, and operation is simple.
6.Its emission attained the national standard requirements.
7.It can effectively collect the absorbable particles of PM2.5 and PM10.
Road Sweeper YHQS-5063

Vehicle Parameters

Project

Unit

Parameter

Chassis Model

NKR77LLPACJAY

Output

ml

2999

Power rating/speed

kw/(r/min)

96/3400

Fuel type

Diesel oil

Highest speed

km/h

92.4

Emission Standard

Euro IV

Dust Partial Parameters

Overall Dimensions

6050x2099x2480

Operating radius mm

3000

Maximum cleaing speed( km/h)

20.6

Dust collecting tank volume ( m3)

5

Cleaning ability(㎡/h)

60000

Full load mass(kg)

6450
CASE

RELATED PRODUCTION