PRODUCT LIST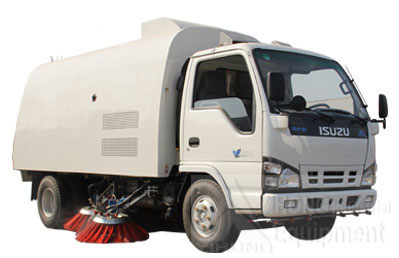 Road Sweeper YHQS5050B
Applications :
City road cleaning, Factory daily cleaning, Parking lots cleaning, College, school cleaning, etc





Sweeper Truck YHQS5050B adopts the way of suction and sweeping combination, wet dust removal, electro-hydraulic control and hydraulic dumping unloading to clean the road.

With the structure of four mid-mounted disk brushes and one rear-mounted suction nozzle, which provide a large sweeping width, high sweeping efficiency and good traffic ability. Also convenient for adjustment and maintenance of sweeper device and nozzle.
An automatic clutch is set up on the transmission between the vice-engine and the fan, which can ensure the automatic separation of the vice-engine from the fan when the vice-engine startup or shutdown. Also simplified the operation, reduced the impact on vice-engine and improved the reliability and service life of vice-engine.

The sweeping disk has the protection function and automatic reset function, which can avoid obstacles automatically and return automatically.

Three positions of disk brush rotation speed (I. E. HIGH, MID and LOW) are provided for various road conditions to ensure the optimal cleaning effect.













Assembling on secondary-class chassis of QL10508HARY or NKR77LLLACJAY , this road sweeper truck is equipped with air conditioning, heater, power steering system, and high-quality CD player, making driving easy.
This equipment is an environment-friendly special purpose sweeper, which integrates sweeping, sprinkling, and garbage transportation.
The cleaning system is driven by imported advanced hydraulic motor to guarantee the power and reliability during work.
When cleaning, the sweeping brushes softly contact the ground, largely reducing their wear and extending their working life.
The suction unit features elastic collision and ensures the safety during the cleaning process.
Equipped with oversized three layers of filter system, dust filtering ratio up to 99.99%, extending engine's life.
The hydraulic motor is imported from Bulgaria, stable operation.
Equipped with a backup hydraulic unit, which is used to lift the garbage bin and other actions, in case the truck can not start.
The main and auxiliary engines are from the same brand, so it is relatively easy to maintain.
Stainless steel water tanks and garbage bin which makes the using life longer.
Customized suction fan provides ample wind force; ensure a smooth and efficient completion of work.
Equipped with warning light that ensures a safe working enviroment during the operation.
Road Sweeper YHQS5050B

Model
YHQS5050B
Chassis Parameters
Chassis Manufacturer
ISUZU
Chassis Model
NKR77LLLACJAY
Fuel Type
Diesel
Weight
5260 kg
Rated Loading Weight
2450 kg
Max Speed
100km/h
Sweeping System Parameters
Auxiliary Engine Type
ISUZU technical diesel engine
Fuel Type
Diesel
Emission Standard
Euro IV
Sweeping Width
3000mm
Sweeping Speed
25km/h
Maximum Cleanable Particle Size
110mm
Water Tank
1.2m3
Waste Hopper Capacity
5m3
Hydraulic System
System Pressure
13MPa
Operating System
Full Hydraulic control
CASE

RELATED PRODUCTION