PRODUCT LIST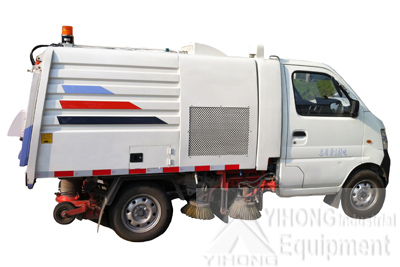 Road Sweeper YHQS5020
Applications :
It is especially suitable for cleaning residential estate,square,auxiliary road,sidewalk,etc.





Assembling on secondary-class chassis of Hebei Changan,YHQS-5020 road sweeper is with small size and has a good flexibility. It has a good sweeping performance with low noise and Euro IV emission standard.It is especially suitable for cleaning residential estate,square,auxiliary road,sidewalk,etc.It greatly expands the sweeping area in city and increases the cleaning efficiency.












1. It is provided with a low working speed,which can be 3.5km/h at minimum,especially suitable for cleaning the narrow and irrgular area.
2. Without frequently stepping the clutch pedal,it greatly reduces the driver's nervousness and work intensity.
3. It adopts the design of four compact sweeping brushes in the middle and a rear-installed suction mouth, generating strong suction effect.There is no leakage at overlapping area between sweeping area and suction nozzle.
4. With patented cleaning-device technology,it is convenient and quick to adjust the sweeping broom omni-directionally.
5. There are three independent functions:left sweeping,right sweeping and all-round sweeping, which meets the full demand of road cleaning.The front sweeping gear is with collision avoidance function,that guarantees few damages.
6. The patented suction nozzle: compared with the cylinder or the push-rod operation,manual-controlled hopper mouth is convenient for the bulk material feeding and more sensitive and intuitive.
7. Simple design for adjusting the gap between suction nozzle and ground.Fast and convenient.
8. Lightweight design meets the samll loading quality requirement.The kerb mass is the lowest of all in the same class. Safe and reliable, good fuel economy.
9. Patented technology of pneumatic blowing to cleaning pipes is adopted to prevent pipes from freezing in winters.
10. All fasteners are galvanized,and the sweeping broom and suction nozzle adopts the process of pickling,phosphating and electrostatic spraying paint.
11. The dustbin material is SUS304 stainless steel,which ensures a higher anti-corrosion and toughness.
12. For emergency,it is able to control the lifting of dustbin and sweeping gear by the hand pump.
13. With the dust suppression device,it is fit to clean a quite dusty road.
14. Thanks to the PLC intelligent control system programming,it is easy operating,even without leaving the cab for the driver to operate all.
15. Equipped with a rear camera and the both sides viewer,all round road view can be achieved to ensure safety.
16. Most of the transmission parts, hydraulic parts and electrical components are international brands with high quality.

Road Sweeper YHQS5020

| | |
| --- | --- |
| Item Name | YHQS-5020 |
| Chassis Model | CHANGAN SC1022DB4N (Euro IV) |
| Chassis Engine Model | JL466Q4 |
| Chassis Engine Power | 39kw |
| Auxiliary Engine Model | JL466Q4 |
| AuxIliary Engine Power | 39kw |
| External Size(LxWxH) | 4100x1600x1895mm |
| Gross Vehicle Weight | 1810kg |
| Unladen Weight | 1635kg |
| Payload Weight | 110kg |
| Maximum Speed | 98km/h |
| Wheel Base | 2500 |
| Front/Rear Overhang | 480/1120mm |
| Approach/Departure Angle | 58°/18° |
| Sweeping Width | 2100mm |
| Maximum Sweeping Ability | 42000 |
| Sweeping Speed | 3.5-20km/h |
| Sweeping Efficiency | ≥96% |
| Maximum Inhaled Particle Size | 110mm |
| Stainless Steel Dustbin Volume | 1.6m³ |
| Stainless Steel Water Tank Volume | 370L |
| Dustbin Maximum Tripping Angle | ≥45° |
CASE

RELATED PRODUCTION