PRODUCT LIST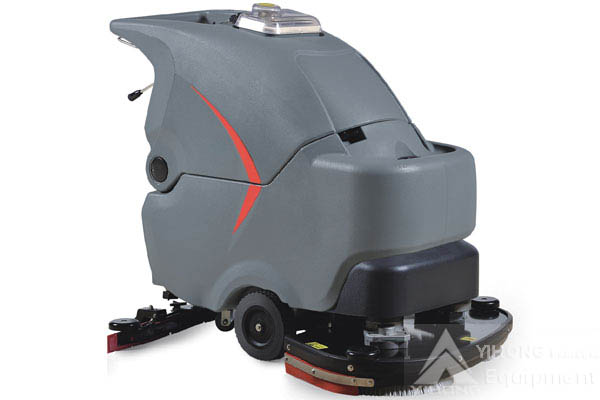 Walk Behind Floor Scrubber YHFS-800H
Applications :
Walk Behind Floor Scrubber YHFS-800H Washing, brushing and suction are all done at a time. Dirty water, mud, sand, stains, and oil contaminations are all sucked into recovery tank in a systematic way. Compact size ,walk behind style, specially venues with area of 2000 sqm-3000sqm. Such as shopping centers, airports, factory floor, warehouse





Walk Behind Floor Scrubber YHFS-800H:
The YHFS-800H is the professional cleaning machine, which with larger tank capacity, double brushes, self-driving motor. Washing, brushing and suction are all done at a time. Floor would be as clean as a new one. Combined with Larger tank capacity, double brushes and self-driving motor make this floor scrubber cleaning more larger square. Compared with semi-automatic floor scrubber, It can more greatly reduce workload and save time, much faster clean away all dirty on floor, and dirty water, mud, sand, stains, and oil contaminations are all sucked into recovery tank in a systematic way.
Walk Behind Floor Scrubber YHFS-800H Features:

1.Self-driving motor, the user can accomplish cleaning workload very easy.

2.Doubles brushes and large Squeegee blades can clean more wider square.

3.It is the perfect choice for large area cleaning such as shopping centers, airports, hypermarket, warehouse and factory floors etc.

4.All components including the accessories are all ready, easy assembly and easy maintenance, excellent performance gives the safe and smooth operation to the user.

5.This unit is compact type, light and easy to pack .

6.Visual buttons on the instrument panel, easy operation without special training.
Walk Behind Floor Scrubber YHFS-800H

| Model | YHFS-800H |
| --- | --- |
| Working width | 800 mm |
| Productivity rate theoretical | 3825 m2/h |
| Brush diameter | 2x400 mm |
| Squeegee width | 1100 mm |
| Maximum running time | 4 h |
| Brush pressure | 38 kg |
| Water tank volume | 70 L |
| Sewage tank volume | 75 L |
| Voltage | 24 v |
| Rated power | 1250 w |
| Gradient | 20 % |
| Max speed | 0-6 km/h |
| Vacuum | 190 mbar |
| Dimension (L*W*H) | 1380 x900 x 1020 mm |
| Packing size (L*W*H) | 1400 x 920 x 1100 mm |
| NW | 98 kg |
CASE

RELATED PRODUCTION