PRODUCT LIST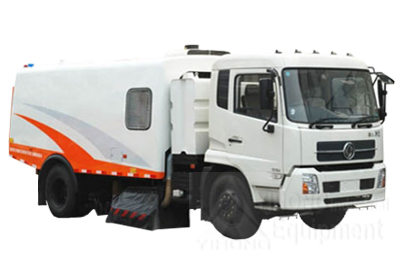 ROAD SWEEPER YHJ5164
Applications :
The vehicle is suitable for road cleaning of urban streets, squares, airports, wharfs, etc.





Suction Road Sweeper YHJ5164 sweeps roads mainly by suction and sweeping functions. The Suction Sweeper is suitable for road cleaning of urban streets, squares, airports, wharfs, etc. It works by picking up gravel, rind, scrap of paper, cigarette end, kernel, plastic bag, stone, brick, grains of sand, dust, and etc.
1. This road sweeper is set up a complete new pneumatic conveying system with parts wind volume filtration for parts reverse blow circulation as well as wind channel switch air damper during rainy day operation, which can realize working condition switch between dry dust collection operation and sweep operation in rainy day, so which can working in all weather condition without reference to weather condition.

2. The whole machine adopted stainless steel inner garbage box and water tank, which have following character: antisepsis, antirust, large room and long time operation continuity, especially it is good for longtime operation in high express way, water in water tank can be used for dust collection and normal clean with road condition, floating multidimensional reverse blow Pneumatic Conveying circulation can be flatted, so which can increase effect for sucker largely.

Centrifugal dust collection device in dust box can collect large granule dust in effect, which can decrease damage for wine channel and fan, and it is set up high efficacy spray dust collection system in dust box that can resolve problem for dust rise completely during seep road and dust collection car is discharge.

3. Front sweep in right and left can work individual or linkage in effect. Sweep trap speed can be adjusted and chose for high, middle and low level in according with its working requirements, which can ensure to get good sweeping effect and cut down operating cost.
ROAD SWEEPER YHJ5164

| Model | YHJ5164 |
| --- | --- |
| Chassis model | DFL1160BX2(Euro III) |
| Chassis engine power | 136kw/2500r/min |
| Auxiliary engine power | 118kw/2600r/min |
| Max. laden weight | 16000kg |
| Max Running Speed | 90km/h |
| Max. sweeping width | 3.5m |
| Hopper capacity | 6m³ |
| water tank capacity | 1400L |
| Overall size | 7860×2470×3190mm |
CASE

RELATED PRODUCTION