PRODUCT LIST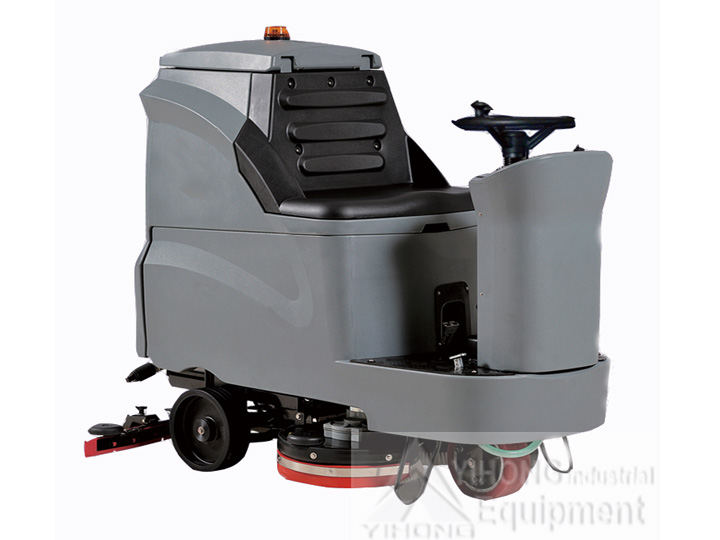 Ride On Automatic Floor Scrubber YHFS-800R
Applications :
Ride On Automatic Floor Scrubber YHFS-800R unsurpassed cleaning efficiency and easy to handle. it is a good idea for routine cleaning from ultra light to heavy scrubbing such as entryways, spill cleanup.Perfect choice for large place, such as shopping center, airports, supermarkets and factory floors





Ride On Automatic Floor Scrubber YHFS-800R:
This machine has a great cleaning capacity. when the power are full recharged, it can clean an area of more over 10,000 sqm. with a compact body, it can cross some narrow place. what's more, this machine is easy operation without specially training. The perfect cleaning capacity can save you much workload.
Ride On Automatic Floor Scrubber YHFS-800R Features:

1.It's easy for an operator even unfamiliar with the machine.

2.low Noise design, suitable for hospitals, schools, and hotels.

3.Fast-speed and easy recharging port : convenient for recharging.

4.Batteries can be maintained by overturning recovery tank without any tools.

5.Automatic reset design:smooth transition over barriers, automatic separation from the system.

6.Combined with the large capacity batteries to ensure long working time .

7.Ultra-quiet design, specially suitable for sensitive venues, such as hospital.


Ride On Automatic Floor Scrubber YHFS-800R

| Model | YHFS-800R |
| --- | --- |
| Working width | 800 mm |
| Productivity rate theoretical | 5590 m2/h |
| Brush diameter | 2x400 mm |
| Squeegee width | 1100 mm |
| Maximum running time | 4 h |
| Brush pressure | 58 kg |
| Water tank volume | 110 L |
| Sewage tank volume | 125 L |
| Voltage | 24 v |
| Rated power | 1570 w |
| Gradient | 20 % |
| Max speed | 0-6 km/h |
| Vacuum | 190 mbar |
| Dimension (L*W*H) | 1485 x 680 x 1320 mm |
| Packing size (L*W*H) | 1500 x 710 x 1350 mm |
| NW | 225 kg |
CASE

RELATED PRODUCTION