PRODUCT LIST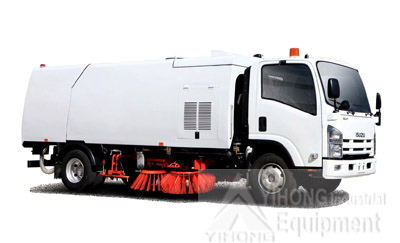 Road Sweeper YH5101
Applications :
The sweeper is suitable for road cleaning of urban streets, squares, airports, wharfs, etc. It works by picking up gravel, rind, scrap of paper, cigarette end, kernel, plastic bag, stone, brick, grains of sand, dust, and etc.





(i)Advanced Techniques

(ii)Sheet Metal Working

(iii)Dustbin Material : SUS304
SUS304 is the 304 stainless steel, which SUS and 304 are Japanese and American ASTM standard respectively. 304 is also similar with 0Cr19Ni9 (0Cr18Ni9) stainless steel in Mainland China, when Japan is now call it as SUS304. It has a higher anti-corrosion ability comparing with Cr13 as having higher degree of Nickel and will be at Single-Phase Austenite Form in room temperature. It also has better toughness in any temperature, and also cold-forming and welding ability. But it has worse strength in room temperature due to greater crystal-and-crystal and stress corrosions. So it has a worse finishing by cutting. It also can't be strengthen by heat treatment as Austenite will not change form when heating. The heat treatment can only be completed by raising the anti-corrosion of steel. SUS304 Canonical Heat Treatment:Solid Melting 1010~1150℃ Quick Cooling。Metal Phase: Austenite.

(iv)Welding Form, Related Equipments and Welding Stick Material
It applies a mixed gas(85%Ar+15%CO2)for protective welding with gas protective welding machine and ER50-6/Φ1.0 stainless steel welding stick.

(iv)Anti-Corrosion Craft
1. All parts should be dry and corrosion free before welding.
2. All strengthen bars'internal parts and welding positions with mother-materials should be painted with anti-corrosion material(grass green oxidized paint);
3. All strengthen bars must be fully welded by sealed board.
4. Use Normal Welding Stick for Welding.
5. Area within 20mm from the welding position must be cleared before welding.
6. Welding mess should be cleared after welding.
7. Paint the whole vehicle when welding completed.



(v)Painting Procedure


Checking→Clearing→Roughing→Medical Wiping→Medical Drifting→Drying→Base Painting→Paint Drying→Plastic Spurting→Rough Ash Scraping→Rough Polishing→Blowing Clean→Smooth Ash Scraping→Small Polishing→Blowing clean→Medium Painting→Drying→supplement→polishing→blowing clean→Black Painting for the Base Part→Cover Painting→Cover Paint Drying→Logo Painting→Drying→Inspection












1. The truck with high pressure water pumps control independently and can switch between sweeping and cleaning function at any time. It integrates road sweeping truck and road cleaning truck. The truck is multi-purpose and the four seasons are available.
2. The truck adopts the device with 4 disc brush plates in the middle with V-shaped spray water forms and nozzles.
3. Adopts Imported large flow and high pressure water pump, to make it has strong cleaning ability; Using high pressure centrifugal fan to make suction capability is strong.
4. High pressure cleaning system adopts V-typed nozzle, half around suction nozzle and the high pressure without clearance spray nozzle device.
5. Adopting sewage discharge valve device can effectively separate the sewage and sludge. According to the sewage situation in the garbage tank can discharge the waste water separately to effectively prolong the truck continuous working time and improve the working efficiency.
6. The garbage tank can automatic tipping and discharging and with high-pressure automatic cleaning device to make it can wash out the garbage tank quickly
7. Equipped with high-pressure cleaning gun, to clean the whole truck automatically and can also clear out the pedestrian space, street small advertisement.
8. Two paragraphs around spray frame with functions of automatic obstacle avoidance. Has a variety of security alarm system: fresh tank low water, sewage bin high water level, operation tips, auxiliary engine water temperature, oil pressure, reverse tips, etc.(hydraulic oil leakage, dustbin, tipping and reset, the back door open and close security alarm device is optional.).
9. Brushes touching ground pressure are automatically controlled by hydraulic and to avoid the status of the uneven when the road changes in the process of operation; after sweeping brush wear it's no need manual adjustment.
10. Adopting Japanese imported Omron PLC programming and intelligent control system to realize he implementation of all actions in the driving room.
Road Sweeper YH5101

| | | | |
| --- | --- | --- | --- |
| ITEMS | YH5070 | YH5101 | YH5160TQS |
| Chassis Model | QL1070A1KA1Y | ISUZU QL11009LARY | DONGFENG DFL1160BX5 |
| Chassis Engine Model/Power (kw) | 4KH1-TCG40/88 | 4HK1-TCG40/139 | ISDE210 40/155 |
| Auxiliary Engine Model/Power(kw) | JE493G3/57 | JE493G3/57 | EQ6BT5.9/118 |
| External Size(L× W× H) (mm) | 6370x2150x2400 | 7020x2280x2550 | 8810x2500x2880 |
| Gross Vehicle Weight(kg) | 7300 | 10055 | 16000 |
| Unladen Weight(kg) | 5630 | 7200 | 10380 |
| Payload Weight (kg) | 1540 | 2725 | 5425 |
| Maximum Speed(km/h) | 105 | 110 | 90 |
| Wheel Base(mm) | 3815 | 4175 | 5000 |
| Cab Seating Capacity(persons) | 2 | 2 | 3 |
| Front/Rear Overhang(mm) | 1015/1560 | 1110/1735 | 1580/2230 |
| Approach/Departure Angle(°) | 24/13 | 20/11 | 20/11 |
| Sweeping Width(m) | 3 | 3.2 | 3.5 |
| Cleaning Width(m) | 3.1 | 3.3 | 3.5 |
| Working Speed Range(km/h) | 3~25 | 3~25 | 3~25 |
| High Pressure Water Pump Model | Italy NX-C75/150 | Italy NX-C75/150 | Germany P51 |
| High Pressure Water Pump Pressure(Mpa) | 15 | 15 | 10 |
| High Pressure Water Pump Flow Rate(l/min) | 75 | 75 | 134 |
| Water Tank Volume(L) | 4500 | 6000 | 10000 |
| Waste Water Tank Volume(L) | 2800 | 3000 | 7000 |
CASE

RELATED PRODUCTION