PRODUCT LIST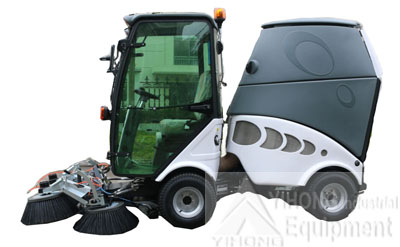 Road Sweeper YHD22
Applications :
City road cleaning Factory daily cleaning Footpath, shopping mall cleaning Parking lots cleaning College, school cleaning etc.





This sweeper is an outdoor multifunctional special equipment that equipped with a full set of special attachments, outdoor work can be completed without interruption throughout the year, spring and autumn for cleaning and vacuuming, summer used to mow the lawn, pruning, winter can be used to sweepsnow, sprinkle salt,etc.At the front of the vehicle is equipped with a quick plugin, put on different attachments have different functions, domestic initiative and fill the gaps.


This sweeper is an ergonomic designed outdoor multifunctional special equipment, large spacious cab, surrounded by wide vision, the entrance position low and wide, the wheel and seat areadjustable to accommodate different operators. Seat with suspension device, very comfortable. Joystick and all operating control accessories are placed in the best position to facilitate the operator to operate, and provide a safe and comfortable operating environment.
1.Imported engines or domestic engines for customers to select, the hydraulic system of the machine which are using the mostadvanced technology from abroad, advanced performance, flexible operation. The sweeper is equipped with a unique hand-held suction hose, to clean more complex jobs such as the green belt, turns, dead ends and the area which the front brushes could not reach. The main accessories such as pumps, motors, electrical parts are imported parts, reliable quality, superior performance and leading technology.

2.Attachments can be changed quickly and easily. The attachment system has a single lock and release lever – one click and the attachment is on. In less than a minute. Hoses and couplings are hidden (thus well-protected) and the hydraulics and water supply, power and vacuum hose connect automatically.

3.The YHD22 road sweeper is articulated, so it can keep close to edges and turn sharp corners.

4.The YHD22 road sweeper has strong traction. With a 22.8 kw power engine, four-wheel drive and excellent weight distribution, combined with a low point of gravity and a large axle base, the outdoor utility machine is safe and reliable – no matter where or how much work it is doing. It is stable on all terrains.

5.The YHD22 road sweeper is an ergonomically-designed outdoor utility machine. The cab is spacious, with visibility on all sides, and the entry-opening is low and wide. The wheel and seat are fully-adjustable to suit the operator. The seat has suspension (with optional pneumatic suspension) and is very comfortable to sit in. All the operating controls – including the joystick for controlling the attachments – are positioned optimally for the operator. Air-conditioning is available as an optional feature.
Road Sweeper YHD22

| Model | YHD22 |
| --- | --- |
| Engine Model | Yanmar 3GNDA |
| Rated Engine Power | 22.8 kw |
| Wheelbase | 1350 mm |
| Kerb Mass | 1200 kg |
| Max Total Mass | 1800 kg |
| Garbage Bin Volume | 500 L |
| Water Tank Volume | 150 L |
| Sweeping Speed | 10 km/h |
| Max Sweeping Width | 2200 mm |
| Max Speed | 18 km/h |
| Dimension(LxWxH) | 2700x1100x2100 mm |
CASE

RELATED PRODUCTION