PRODUCT LIST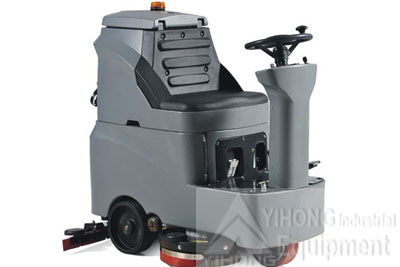 Mini Ride On Scrubber YHFS-700RM
Applications :
Mini Ride On Scrubber YHFS-700RM Automatic ride on floor scrubber is suitable for the space of 2000sqm-5000sqm,for example exhibition hall, stadium, airport. Which is used for thecleaning on the hard floor. such as mirror surfaced building stone, PVC, epoxy, carborundum, polished cement,etc.





Mini Ride On Scrubber YHFS-700RM:
The YHFS-700RM is designed for the space of more than 5000 sqm. This floor scrubber not only has outstanding cleaning efficiency, but also can be handled easily in any cleaning situations. It is a good ideal for routine cleaning. Combined with a new squeegee and powerful vacuum motor, the YHFS-700RM makes working much easier and more comfortable. It provides more effective water collection, and together with the powerful vacuum motor ensures that the floor dries quickly.




















Mini Ride On Floor Scrubber YHFS-700RM Features:

1. One full recharging, sufficiency for cleaning an area of over 5000 sqm. Creating efficiency and wealth.

2. Scientific cleaning, significantly improving the hygienic level of venues.

3. 58 decibels,driving while working,quite and comfortable

4. A compact size, easy to enter all elevators and convenient to go upstairs and downstairs.

5. This model is only 1.2m in length, ensuring flexible working within narrow apace .

6. Easy operation without special training.
Mini Ride On Scrubber YHFS-700RM

| Model | YHFS-700RM |
| --- | --- |
| Working Width | 700 mm |
| Productivity Rate Theoretical | 4550 m2/h |
| Brush Diameter | 2x350 mm |
| Squeegee Width | 1010 mm |
| Maximum Running Time | 4 h |
| Brush Pressure | 45 kg |
| Water Tank Volume | 70 L |
| Sewage Tank Volume | 75 L |
| Voltage | 24 v |
| Rated Power | 1650 w |
| Gradient | 20% |
| Max Speed | 0-6 km/h |
| Vacuum | 190 mbar |
| Dimension (LxWxH) | 1200 x 560 x 1200 mm |
| Packing Size (LxWxH) | 1220 x 860 x 1200 mm |
| N.W. | 290 kg |
CASE

RELATED PRODUCTION